as of right now, mute_normal, trans_volumel, trans_volumer, and possibly even vumetertreblelr, vumeterbasslr, vumeterbasslr and the opposing of those do not work on the same layer. For instance if I put on a layer name "mute_normal trans_volumel" only the mute_normal works even if its put like "trans_volumel mute_normal". Heres a screenshot of my setup: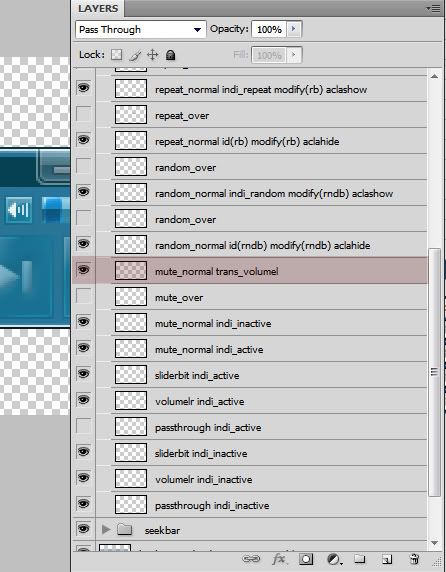 1. I want both the functionality of the animated functions like trans_volume and mute_normal to work together on the same layer, so that when that layer with trans_volume is clicked if it also has mute_normal it will mute/unmute.
2. also while im on this subject of muting: I have this thing where if mute is active the indi_mute is a full red layer that is low opacity. But I don't like having the layer shown in photoshop and I continue to forget to show it cause its hard to work with it shown. So if you could (cause I know you can cause you do it with the over function) have the indi_mute, when activated, show in the skin even tho the layer is hidden?
3. one from my previous thread that got lost in the fray: A layer name to indicate mute is NOT on, indi_nomute.